You Are a Better Writer Than You Think You Are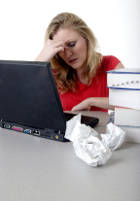 It's easy for writers to get a bad case of "perfectionism" and think that their copy is not good enough.
If you've ever written, and rewritten, and rewritten the same piece of writing again and again because it just didn't seem right to you–then you know what I mean.
While I'm definitely in favor of Editing your work (got to nip those nasty typos in the bud wherever we can), I think writers are often too hard on themselves.
It's easy to over think corrections. At least, I know I've been guilty of this (and I suspect other writers have been too).
Here's a few quick fixes if you find yourself overworking a piece of copy:
Let it breathe. Stop working on it-preferably for a day or so. When you come back, you'll realize that what you've written is better than you thought.
Let someone else review it. Not only will they be able to read your copy with a fresh eye, it's proven that it's easier to catch someone else's typos and spelling errors.
Review the requirements for the copy. You'll probably find that you met or exceeded the requirements.
If you're still hesitating to call the piece done, remember that you have to finish it sometime. Despite the perceived flaws in what you've written, it's probably good enough. You're a better writer than you think you are.
Oh, and if you do find that you've in fact written something terrible–forgive yourself. Okay? You'll do better next time.
How about you? Do you struggle with perfectionist tendencies when it comes to your own writing?
Share your comments below.
Source
http://www.writingthoughts.com/?p=1661
Tue, 31 Jan 2012 23:10:38 GMT
Tags: Featured, Inspiration, Perfectionism, Writing Inspiration,
---
Gilbert E-Commerce
|
Kolkata E-Commerce
|
Navi Mumbai E-Commerce
|
Fort Collins E-Commerce
|
McKinney E-Commerce
|
Atlanta E-Commerce
|
Minneapolis E-Commerce
|
Anaheim-Santa Ana-Garden Grove E-Commerce
|
St George E-Commerce
|
Walsenburg E-Commerce
|
Featured
---
Inspiration
---
Perfectionism
---
---
Need Freelance Writer Market? Check out our member profiles:
Fort Collins
Kolkata
Navi Mumbai
Mckinney
Kolkata
Gilbert
Walsenburg
Minneapolis
June 27 #wclw writer chat – How are writers using Pinterest?
Hear how freelancers and other writers are using the image sharing network to advance themselves and
---
New Guest Post Guidelines
I've been bombarded with guest post requests lately, and it's getting difficult to keep
---
How to Furnish Your Home Office on a Budget
When we work from home as freelancers, sometimes we don't have much control over our work envi
---
Repeat Clients: The Key to a Successful Ghostwriting Business
Repeat business is, in my opinion, the secret to a successful ghostwriting career. There are two
---
Joan Bailey: How the Blogathon changed my writing career
A U.S. expat explains how she used the blogging challenge to learn about her new hometown, make f
---
Article Tags
Freelance Writer Market Articles