Rediscovering the Joy of Writing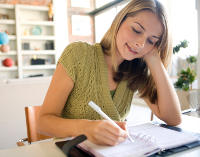 I might have been a bit moody as a teen. I remember dragging a notebook around (it wasn't really a journal–just an ordinary composition book) and jotting down poems and other thoughts as they occurred to me.
Why would I do such a thing?
I attribute my early scribblings to something many of us who are professional writers seem to have forgotten–the joy of writing.

You see, back in those days I didn't have to write. There was no SEO, no clients, or really even any writing rules. (Well, maybe there were a few rules if I had a homework assignment…)
It started because I loved to read what others had to say and then I discovered that I too had a voice.
I remember when I first realized that I too could create something that others would enjoy. I was in second grade and the teacher had us each write a short story. She collected them and a few days later, she read my story to the class.
That's all it took. From then on, if I wasn't writing I was thinking of things that I could write. As a child, I remember making up stories about the houses we passed on car trips and the people who I imagined lived in them.
I wrote simply because I loved to write. That was the only reason.
Being a professional writer is a lot different from that early writing.
Well, for one thing, it's a job. Writing being a job means that there are days that you have to write when you don't feel like it. It also means that sometimes you might have to write about something you're really not interested in. But, you do it anyway.
If this is you, sooner or later, you might be feeling a bit burnt out with your writing. You just might have even lost your early joy of writing.
It doesn't have to be that way. Just because you are a professional writer doesn't mean you have to lose the joy. Here are four ways to get that joy back:
Have a blog "just for fun." Blogs are the new journals. They're great tools, but they don't always *have* to be used for business only. Create a blog for just you. Don't worry about whether anyone reads it or about traffic. Just write what you care about.
Turn down the most draining assignments. You know the ones that I mean. The ones that leave you emotionally exhausted and creatively dried up. If you can, try to replace those jobs with assignments in an area that you are passionate about. Believe me, you'll feel the difference.
Take part in writing prompts and other "fun" writing assignments. There are a number of sites that publish creative writing exercises. Creative Copy Challenge is one such site, but there are others. (You might even meet other writers…)
Just do it. Write something you don't have to write for pay. Write even if you think it's not very good. Keep a paper journal again if it helps. Just do it–let yourself go with words. Do it today, before you forget.
Have you lost your joy of writing? What are you doing to get it back?
Source
http://www.writingthoughts.com/?p=1648
Wed, 11 Jan 2012 22:16:57 GMT
Tags: Blogging, Featured, Inspiration, Joy of writing, writing passion, writing prompts,
---
St George E-Commerce
|
Gilbert E-Commerce
|
Anaheim-Santa Ana-Garden Grove E-Commerce
|
Northeast Cobb E-Commerce
|
Navi Mumbai E-Commerce
|
Atlanta E-Commerce
|
Minneapolis E-Commerce
|
Kolkata E-Commerce
|
McKinney E-Commerce
|
Fort Collins E-Commerce
|
Blogging
---
Featured
---
Inspiration
---
---
Need Freelance Writer Market? Check out our member profiles:
Mckinney
Anaheim-santa Ana-garden Grove
St George
Navi Mumbai
Walsenburg
Kolkata
Minneapolis
Fort Collins
How To Find & Profit From A Freelance Writing Niche
A guest post by Brenna Fender Recently, I had the unfortunate need to visit a urologist. During the
---
Recommended reading for writers for April 22, 2011
The 2011 Pulitzer Prizes, "Three Cups of Tea" allegations, News.me and other recommended reading for
---
30 Days of Writing Tips – Day 7 – Avoid Clichés
The admonition to freelance writers avoid clichés is probably a cliché in itself. Which doesn'
---
8 Reasons Why You Shouldn't Discount Your Freelancing Rates and 4 Reasons Why You Might Want to
Has this ever happened to you? You've just had a great phone conversation with a potential cli
---
Where Is the Best Place for Freelancers to Work, Really?
One of the perks of being a freelancer is that you can work from anywhere, but should you? You may
---
Article Tags
Freelance Writer Market Articles