Why No Resolutions?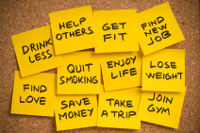 It's that time of the year again. The time when everyone posts a long (or not so long) list of New Year's Resolutions to their blog.
Well, you won't see that here. Are you wondering why?
Here are a few of the reasons why I don't make New Year's Resolutions any more.
Been There, Done That
I've done it before. In the excitement of the New Year, I've gone out and drafted a long list of resolutions–only to have broken most of them before the end of January.
In my experience, most New Year's Resolutions are based on emotions rather than planning. In fact, most of them read sort of like a wish list. (See if it isn't true. Take any list of resolutions and put the words "I wish I" in front of every one of them. See what I mean?)
The lack of planning with resolutions is a serious oversight though. That's why most of us fail to keep our New Year's Resolutions.
Goals are My Goal
Instead of New Year's Resolutions, I favor goals. Goals are measurable. One plans for goals. But, most importantly, goals should be achievable.
Lexi Rodrigo, my colleague at Freelance Folder, outlines the SMART method for setting goals in this post.
So, in the next few weeks I'll be considering some specific, measurable, attainable goals that are relevant to my freelance writing business. I'll be making this decision carefully, based on my past experience as a freelance writer.
Not Just Once a Year
Goals shouldn't be limited to just once a year either like resolutions are. I'll be revisiting my goals at least once a quarter. I'll add to them or subtract from them, as I see fit.
I don't want to wait for an entire year to pass before I set another goal.
Your Turn
I wrote this post because I think goals are so much more meaningful than the typical list of New Year's Resolutions.
Just because I don't have New Year's Resolutions this year doesn't mean you can't. Did you set New Year's Resolutions this year? If so, share them in the comments.
If you didn't make New Years Resolutions this year, let us know why not.
Source
http://www.writingthoughts.com/?p=1640
Tue, 03 Jan 2012 23:16:55 GMT
Tags: 2012 Resolutions, Featured, Goals, Inspiration, New Years Resolutions, Resolutions,
---
Anaheim-Santa Ana-Garden Grove E-Commerce
|
Gilbert E-Commerce
|
Minneapolis E-Commerce
|
Navi Mumbai E-Commerce
|
Fort Collins E-Commerce
|
St George E-Commerce
|
Atlanta E-Commerce
|
Walsenburg E-Commerce
|
Northeast Cobb E-Commerce
|
Kolkata E-Commerce
|
2012 Resolutions
---
Featured
---
By Jennifer Mattern As a freelance writer your portfolio is a valuable marketing tool. But if you're new to freelancing you may not have professional portfolio pieces you can show off. That's okay! There are other ways to build samples of your
"Oh no they didn't!" But sadly, yes they did. Once again I've run across someone who thinks that simply because they own a word processor and can type they can write their own web copy–even though they have no writing experie
So, you've decided to create a blog post. Or perhaps, you want to publish an article on an Internet magazine. Whatever it is, you will probably want to promote your piece through social media. If what you are writing is going end up online, pay atte
Goals
---
Some freelancers strongly advocate the use of business plans for freelancers. Other freelancers will tell you that you don't really…
With the start of June right around the corner, we're nearly halfway through the year. Just one more month. When I realized how fast time was flying by, I went back to review some of my business goals and resolutions …
---
Need Freelance Writer Market? Check out our member profiles:
St George
Steven Lee
From direct-marketing to corporate communications, and everything in between, Steve has done it all. He wants to help you look your very best! Put Steve's twenty years of experience to work for you!
St George, Utah US
Kolkata
Gilbert
Mckinney
thawriter.biz
I write for the very reason I breathe. From journalism, PR and online content, to fiction/non-fiction, creative and ghostwriting, I produce effective messaging that sells!
McKinney, Texas US
Navi Mumbai
Minneapolis
Cynthia Sowden
Need an ad, a brochure, a video script, a feature article or web content? I give you creative copy, fast turnaround, and exceptional service. Writing, editing, proofreading at below-agency prices.
Minneapolis, Minnesota US
Kolkata
Credence BPO Pvt Ltd
An ISO 9001:2008 certified and STPI registered company based in India, with offices in UK and USA. Our Services: Web Development, Design, Content & Article Writing, SEO, SEM, SMM, Native English.
Kolkata, West Bengal IN
Minneapolis
6 Musts For The Successful Freelance Writer's Office
When you're serious about freelance writing there are 6 things you absolutely must have for fu
---
30 Days of Writing Tips – Day 23 – Be Willing To Fail
The title of the book really says it all – success does start with failure. How could it be ot
---
Should You Provide a Guarantee for Your Freelancing Work?
As a marketing consultant, I advise my clients to always provide a money-back guarantee. It's
---
Recommended reading for July 15: Harry Potter and more
Top news industry stories this week: J.K. Rowling's boy wizard series comes to a cinematic end, aggr
---
33+ Real Reasons Why You're Not Getting Anything Done
Is your to-do list growing? Do you feel like you're working hard, but not accomplishing very m
---
Article Tags
Freelance Writer Market Articles