Why No Resolutions?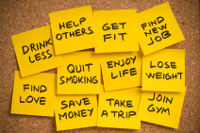 It's that time of the year again. The time when everyone posts a long (or not so long) list of New Year's Resolutions to their blog.
Well, you won't see that here. Are you wondering why?
Here are a few of the reasons why I don't make New Year's Resolutions any more.
Been There, Done That
I've done it before. In the excitement of the New Year, I've gone out and drafted a long list of resolutions–only to have broken most of them before the end of January.
In my experience, most New Year's Resolutions are based on emotions rather than planning. In fact, most of them read sort of like a wish list. (See if it isn't true. Take any list of resolutions and put the words "I wish I" in front of every one of them. See what I mean?)
The lack of planning with resolutions is a serious oversight though. That's why most of us fail to keep our New Year's Resolutions.
Goals are My Goal
Instead of New Year's Resolutions, I favor goals. Goals are measurable. One plans for goals. But, most importantly, goals should be achievable.
Lexi Rodrigo, my colleague at Freelance Folder, outlines the SMART method for setting goals in this post.
So, in the next few weeks I'll be considering some specific, measurable, attainable goals that are relevant to my freelance writing business. I'll be making this decision carefully, based on my past experience as a freelance writer.
Not Just Once a Year
Goals shouldn't be limited to just once a year either like resolutions are. I'll be revisiting my goals at least once a quarter. I'll add to them or subtract from them, as I see fit.
I don't want to wait for an entire year to pass before I set another goal.
Your Turn
I wrote this post because I think goals are so much more meaningful than the typical list of New Year's Resolutions.
Just because I don't have New Year's Resolutions this year doesn't mean you can't. Did you set New Year's Resolutions this year? If so, share them in the comments.
If you didn't make New Years Resolutions this year, let us know why not.
Source
http://www.writingthoughts.com/?p=1640
Tue, 03 Jan 2012 23:16:55 GMT
Tags: 2012 Resolutions, Featured, Goals, Inspiration, New Years Resolutions, Resolutions,
---
Northeast Cobb E-Commerce
|
Fort Collins E-Commerce
|
Atlanta E-Commerce
|
St George E-Commerce
|
Navi Mumbai E-Commerce
|
Gilbert E-Commerce
|
Anaheim-Santa Ana-Garden Grove E-Commerce
|
Minneapolis E-Commerce
|
Kolkata E-Commerce
|
Walsenburg E-Commerce
|
2012 Resolutions
---
Featured
---
By Jennifer Mattern As a freelance writer your portfolio is a valuable marketing tool. But if you're new to freelancing you may not have professional portfolio pieces you can show off. That's okay! There are other ways to build samples of your
"Oh no they didn't!" But sadly, yes they did. Once again I've run across someone who thinks that simply because they own a word processor and can type they can write their own web copy–even though they have no writing experie
So, you've decided to create a blog post. Or perhaps, you want to publish an article on an Internet magazine. Whatever it is, you will probably want to promote your piece through social media. If what you are writing is going end up online, pay atte
Goals
---
Some freelancers strongly advocate the use of business plans for freelancers. Other freelancers will tell you that you don't really…
With the start of June right around the corner, we're nearly halfway through the year. Just one more month. When I realized how fast time was flying by, I went back to review some of my business goals and resolutions …
---
Need Freelance Writer Market? Check out our member profiles:
Kolkata
Credence BPO Pvt Ltd
An ISO 9001:2008 certified and STPI registered company based in India, with offices in UK and USA. Our Services: Web Development, Design, Content & Article Writing, SEO, SEM, SMM, Native English.
Kolkata, West Bengal IN
Gilbert
Anaheim-santa Ana-garden Grove
Kolkata
Navi Mumbai
Northeast Cobb
MarketingRT
Integrated, High Yield, Marketing Tailored to Your Business Needs MarketingRT an interactive and online marketing company. REAL TIME marketing experiences, enhanced by services.
Northeast Cobb, Georgia US
Fort Collins
Walsenburg
Goldenwebweaver
Experience of this writer includes technical descriptions of testing procedures for testing of parts received in shipping. Non-fiction political commentary, and published in newspapers.
Walsenburg, Colorado US
The Sacrifices We Make to Freelance Full-Time
"The thing some folks don't understand about sacrifice… Sometimes it's more of a trade (The Skeleton
---
Bloggers Beware: WriterBay.com Uses Guest Posts as Link Spam
I received an email from someone pitching a guest post to All Freelance Writing this afternoon. That
---
What Is Your Client's Communication Style? What Is Yours?
Tweet Everybody has their own communication style. Yet many freelance writers do not realize this, a
---
Back By Popular Demand
LearnWebDevelopment.com initially planned to wait until Fall 2013 to host another WordPress Bootcamp
---
Let your beliefs guide your writing strategy
In this excerpt from her book, Dojo Wisdom for Writers, 2nd edition, Jennifer Lawler talks about
---
Article Tags
Freelance Writer Market Articles