Five from the WritingThoughts Archives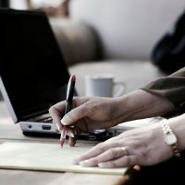 Sometimes it's nice to sit back and share past material with the readers. This is one of those times.
I like to share past posts for a couple of reasons. First of all, readers may have missed the posts the first time around. Secondly, a second reading often brings a fresh perspective.
Today, I thought I'd share some of my favorite WritingThoughts posts from 2011. I think you'll agree, there's some really useful stuff here.
Here are some great posts that you may have missed from our archives:
Do you have any specific writing-related topics you would like to see me cover in 2012? Share your feedback in the comments.
Source
http://www.writingthoughts.com/?p=1627
Tue, 27 Dec 2011 23:17:02 GMT
Tags: Featured, Writing Information, Writing Tips,
---
McKinney E-Commerce
|
Kolkata E-Commerce
|
Fort Collins E-Commerce
|
Northeast Cobb E-Commerce
|
Atlanta E-Commerce
|
St George E-Commerce
|
Anaheim-Santa Ana-Garden Grove E-Commerce
|
Walsenburg E-Commerce
|
Gilbert E-Commerce
|
Minneapolis E-Commerce
|
Featured
---
By Jennifer Mattern As a freelance writer your portfolio is a valuable marketing tool. But if you're new to freelancing you may not have professional portfolio pieces you can show off. That's okay! There are other ways to build samples of your
"Oh no they didn't!" But sadly, yes they did. Once again I've run across someone who thinks that simply because they own a word processor and can type they can write their own web copy–even though they have no writing experie
So, you've decided to create a blog post. Or perhaps, you want to publish an article on an Internet magazine. Whatever it is, you will probably want to promote your piece through social media. If what you are writing is going end up online, pay atte
Writing Information
---
Writing Tips
---
Freelance writing is a great way to make a living if you love to write. You get to spend all day putting words together, and if you're good, you get paid for it. For word lovers, what's not to love? There's more to freelance writing tha
---
Need Freelance Writer Market? Check out our member profiles:
Minneapolis
Atlanta
Kolkata
Anaheim-santa Ana-garden Grove
Walsenburg
Goldenwebweaver
Experience of this writer includes technical descriptions of testing procedures for testing of parts received in shipping. Non-fiction political commentary, and published in newspapers.
Walsenburg, Colorado US
Gilbert
Navi Mumbai
Northeast Cobb
MarketingRT
Integrated, High Yield, Marketing Tailored to Your Business Needs MarketingRT an interactive and online marketing company. REAL TIME marketing experiences, enhanced by services.
Northeast Cobb, Georgia US
Recommended reading for March 11, 2011
Trouble at NPR, layoffs at AOL, tools for curating news and inspiration from food writer Monica Bhid
---
6 lessons freelance writers can learn from entrepreneurs
Mridu Khullar Relph explains why freelance writers need to take a cue from entrepreneurs to think
---
Dear WordCount: Can blogging help me write fiction?
Blogging can help authors find their voice, build a platform, sell books and share their wisdom. Rea
---
How Often Should You Post to Your Blog?
One of the questions clients often ask me is how often they should post to their blogs. In the past,
---
Mindset Busters That Make Freelancers Fail
One of the first things I learned as a freelancer was the importance of mindset. I study successful
---
Article Tags
Freelance Writer Market Articles