How Blogging Makes Me a Better Writer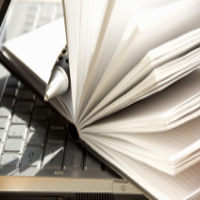 There's been a lot of talk about blogging lately. Some online personalities have stated publicly that as social media becomes more mature and starts to offer more features, there's little reason to continue with their own blog.
Others haven't made any such statement, but have constructively abandoned their own blog (not posting for weeks or, in some cases months) while keeping up with a steady social media presence.

I certainly understand why a writer (or anyone else for that matter), might feel this way. After all, I'm busy too.
But (as I've said before), I think this is a mistake–especially for writers.
6 Ways That Blogging Improves My Writing
Blogging actually makes me a better blogger. Here are six examples of how blogging improves my writing:
Blogging keeps me in practice. They say that practice makes perfect, and in the case of writing it's really true. The more you do, the better you get.
Blogging keeps me in touch with the writing community. I met many of my current contacts through my blog. In fact, several of them eventually became clients.
Blogging provides a way to give back. Where else could you share what you know? Your blog is the ideal place to help other writers who are just starting.
Blogging gives me the chance to experiment. You don't want to experiment with a client's project (unless they ask you to), but with your own blog you're free to take chances.
Blogging gives me a voice. When you write for a client, there are typically some constraints on what you can write about and how you can write about it. The client needs to project an image. Your writing blog, however, can be in your own voice.
Blogging serves as an example of what I can do. Sure, I have a portfolio of work that I've done elsewhere, but my blog also serves as an example of what I can do.
An Additional Benefit of Blogging
Of course, there's one other reason to keep up with your blog.
It's this: when you have a blog, you own something. You can do whatever you want with it:
You can sell it–several freelancers have made good money by selling their blog.
You can advertise on it–advertising can provide another income stream for you.
You can publish stories or photos on it–I can't say it enough. You can take complete creative license with your own blog.
No matter how much you share on a social media site, that social media site will never truly be yours. It's like the difference between renting a house and buying a house.
If you rent a house, it may feel like home–but it's not really yours. There's a limit to what you can do with your rented house. Plus, even though you live there, your landlord could make changes at any time. They could raise your rent. They could sell the property. They could even decide to tear the house down.
However, if you own a house, it's yours. You can make whatever changes you want. You can build a fence. You can put in a garden. You can add an addition.
Your Thoughts
Do you invest more time on your blog, or on social media?
Source
http://www.writingthoughts.com/?p=1566
Tue, 15 Nov 2011 19:13:28 GMT
Tags: better-writing, blog owner, Blogging, Featured, Fun Stuff, Inspiration, Owning a Blog, selling a blog, Web Content, writing practice, Writing Tips,
---
Gilbert E-Commerce
|
St George E-Commerce
|
Northeast Cobb E-Commerce
|
Fort Collins E-Commerce
|
Atlanta E-Commerce
|
Anaheim-Santa Ana-Garden Grove E-Commerce
|
Minneapolis E-Commerce
|
McKinney E-Commerce
|
Kolkata E-Commerce
|
Navi Mumbai E-Commerce
|
better-writing
---
Headline after headline proclaims the sad news–writing skills are deteriorating. Blame the texting. Blame social media. Blame the schools. Blame whoever or whatever you want–it doesn't really matter. The facts are the same. The sad truth
By Leslie A. Joy Whether you're a professional writer or just someone writing a blog, time is of the essence. The faster that you write, the more content you can turn out, the more money you can make, and the more time you'll have for other th
blog owner
---
Blogging
---
So, you've decided to create a blog post. Or perhaps, you want to publish an article on an Internet magazine. Whatever it is, you will probably want to promote your piece through social media. If what you are writing is going end up online, pay atte
When you host your own professional site or blog, you have several hosting options. Many freelance writers use shared hosting accounts, especially when starting out. While it can be a cost-effective option until you need more resources, there's anot
People who know me know that I talk to myself a lot. Hey, I was a lonely kid – no wonder I make an excellent conversational partner. Then again, I think one of my favorite cartoon characters summed it up best: "I simply have a penchant for INT
---
Need Freelance Writer Market? Check out our member profiles:
Navi Mumbai
Minneapolis
Cynthia Sowden
Need an ad, a brochure, a video script, a feature article or web content? I give you creative copy, fast turnaround, and exceptional service. Writing, editing, proofreading at below-agency prices.
Minneapolis, Minnesota US
Anaheim-santa Ana-garden Grove
St George
Steven Lee
From direct-marketing to corporate communications, and everything in between, Steve has done it all. He wants to help you look your very best! Put Steve's twenty years of experience to work for you!
St George, Utah US
Gilbert
Fort Collins
Walsenburg
Goldenwebweaver
Experience of this writer includes technical descriptions of testing procedures for testing of parts received in shipping. Non-fiction political commentary, and published in newspapers.
Walsenburg, Colorado US
Kolkata
Credence BPO Pvt Ltd
An ISO 9001:2008 certified and STPI registered company based in India, with offices in UK and USA. Our Services: Web Development, Design, Content & Article Writing, SEO, SEM, SMM, Native English.
Kolkata, West Bengal IN
How Important Is Correct Spelling for the Professional Writer?
Tweet Answer: Very important. Spelling words correctly is very important for professional
---
Good reads for Oct. 26: Getting too cozy with your subject
Eurogamer's Rab Florence on the dangers of getting too close to the people you cover, and more good
---
When Your Writing Schedule Leaves No Time For Taxes
The deadline for filing a tax return this year is Monday, April 15th. That's just seven days away
---
The Two-Hour Career: Making WAHM Work
Every now and again I think about what it must be like to have all day to work on the writing career
---
5 tips for using Outlook Calendar to manage your work day
Use a calendar system like Outlook to schedule interviews, send meeting reminders, and plan how many
---
Article Tags
Freelance Writer Market Articles