Are You an Invisible Writer?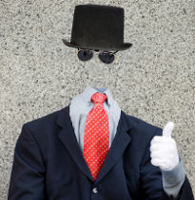 Too many freelance writers are invisible online, and it keeps them from getting the work they need.
Did you ever notice how some freelance writers seem to be everywhere? No matter what social media, what forum, or what blog you read they seem to have a very visible presence there. Naturally, these visible writers are also the first ones that clients turn to when they have a writing assignment. Clients like to work with freelancers they've heard of. But, how do you go from being an invisible writer to a highly visible writer?

One thing you can count on is that the highly visible freelance writers didn't get that way by accident. Instead, they likely followed a very deliberate plan to create and maintain a visible presence online. The good news is that you can do the same thing. Here's how.
5 Steps to Increase Your Online Visibility as a Writer
So, you're ready to go from being an invisible writer online to having a more visible online presence. Here are the steps you need to take.
Have a Blog. Even if you rely on job boards and bidding sites to find work, as a writer you need to have some place to call home base–some place where you can showcase your own work and talent. A blog is perfect for this. You own it, and you control what is published on it.
Join Social Media. If you aren't already active on social media, consider joining and participating in one of the main social media platforms. In my opinion, the main platforms are Facebook, LinkedIn, Twitter, and GooglePlus. All of them provide great opportunities for freelance writers to meet potential clients.
Take Part in Forums. Forum participation is another great way to increase your visibility. Pick one or two popular forums (think of forums where your clients are likely to be) and become a regular participant. The more people you know, the easier it is to find work.
Share your Writing. Have you been keeping all your writing to yourself? Are you posting everything you write to your own blog? If you want to be visible online as a freelance writer, that might not be the best strategy. Publishing guest posts on other blogs can help build your internet presence.
Be Generous. Above all, be generous online. Help others when you can and be generally supportive. Being a visible writer won't help you find clients if you've created a negative online brand for yourself.
Can you think any other ways to increase your online visibility? Are you an invisible writer?
Source
http://www.writingthoughts.com/?p=1510
Tue, 04 Oct 2011 20:41:29 GMT
Tags: Blogging, Branding, Featured, Online Presence, social-media, Writing Tips,
---
Kolkata E-Commerce
|
St George E-Commerce
|
Fort Collins E-Commerce
|
McKinney E-Commerce
|
Gilbert E-Commerce
|
Atlanta E-Commerce
|
Anaheim-Santa Ana-Garden Grove E-Commerce
|
Northeast Cobb E-Commerce
|
Navi Mumbai E-Commerce
|
Walsenburg E-Commerce
|
Blogging
---
Branding
---
Featured
---
---
Need Freelance Writer Market? Check out our member profiles:
Anaheim-santa Ana-garden Grove
Minneapolis
Northeast Cobb
Walsenburg
St George
Atlanta
Mckinney
Kolkata
12 People Every Freelancer Should Connect with through Social Media
"How can I use social media for my freelancing business? I don't really know anybody?
---
Presenting the new and improved WordCount freelance writing website
Check out our updated look, with a redesigned front page, new fonts, colors and social sharing bu
---
Guest post: making time to write fiction
In a guest post, Portland, Ore., author and journalist Jennifer Willis shares suggestions for carvin
---
Site Upgrades and Server Maintenance Tonight
Update: Upgrades and server maintenance are now complete and the site should be fully functional.
---
Is It Time for Freelancers to Slow Down?
We freelancers seem obsessed with speed. There are many articles out there to instruct us on how to
---
Article Tags
Freelance Writer Market Articles