Of Rejection And Persistence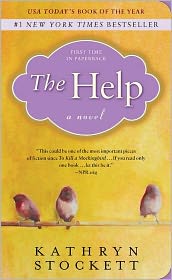 A writer friend of mine recently had her agent reject a book idea. It happens and it's always a bummer. But my friend also bonces back quicker than most people I know. She sent me a link to an article called Kathryn Stockett's 'The Help' Turned Down 60 Times Before Becoming a Best Seller at More.
The headline really says it all, but some of the details are worth a mention. For example:
When Stockett received the first rejection from an agent she recognized that she'd accomplished something worthwhile even though the results weren't what she'd probably hoped.  Her response confirmed what I've said in A Rejection is a Badge of Courage. She went right back to rewriting and editing!
By her 15th rejection she'd gotten a bit discouraged – okay, my personal hunch is she was probably more than a bit discouraged, but she kept at it. And exactly how she felt when doesn't matter. She believed in her book and she kept at it.
According to the article she cried with her 40th rejection. If it had been me I would have cried long before that, but exactly when she first cried isn't the point. She didn't quit. That's the point.
As the rejections piled up she felt like she was going crazy, and maybe she was at least a little bit.
Five years and 61 submissions to agents later, one accepted her and was able to sell the book. The rest is history and the book not only became a best seller but is a movie as well. And if you haven't read it you should. I was riveted, but that's also beside the point.
Should you spend five years and submit a single work 60 times? I haven't a clue. I self-published one book after 13 or 14 rejections and it's worked out reasonably well.
What I am sure of is that successful freelance writing requires persistence, discipline and finding a way to deal with rejection.
Freelance writing isn't easy, but most jobs aren't. In fact I'd say most things that are worthwhile require us to practice and work at them. We humans seem to need the stimulation of real challenges. Easy things bore us quickly and if we stick with those instead of working at the more challenging things we tend to move toward depression.
My suggestion is: Keep working at your freelance writing.
How have you learned to be persistent?
Write well and often,
http://www.aboutfreelancewriting.com/?p=9531
Thu, 11 Aug 2011 14:56:48 GMT
Tags:
---
Minneapolis E-Commerce
|
St George E-Commerce
|
Gilbert E-Commerce
|
Northeast Cobb E-Commerce
|
Fort Collins E-Commerce
|
Atlanta E-Commerce
|
Kolkata E-Commerce
|
McKinney E-Commerce
|
Navi Mumbai E-Commerce
|
Walsenburg E-Commerce
|
---
Need Freelance Writer Market? Check out our member profiles:
Minneapolis
Mckinney
Northeast Cobb
Kolkata
Navi Mumbai
Atlanta
Fort Collins
How to Turn One Client into Two
There is only one thing better than landing a new client – landing two new clients. Over the years,
---
Are you making these Cold Calling Mistakes?
A few weeks back, I showed everybody how to become more comfortable with cold calling. I strongly be
---
10 More Green Tips for Freelancers Who Want to Help the Environment
Several years ago, we wrote 10 Ways to Green Your Home Office. That post has some really great sugge
---
What should I ask HHS Secretary Kathleen Sebelius about Obamacare?
On March 12, the White House's health care chief will talk to a group of BlogHer bloggers about e
---
Five Tips to Search for Companies Online
Whether you are a small business owner or a freelancer, chances are you stand to gain a lot from con
---
Article Tags
Freelance Writer Market Articles