Harry Potter and the best way to capitalize on a hit post?
Today instead of giving advice, I'm asking for it.
I have a dilemma, a good one. Two summers ago I read all the Harry Potter books with my then 8-year-old and wrote a post analyzing the writing-related takeaways I picked up from the books and J.K. Rowling's writing style.
Somehow I hit the SEO jackpot. It soon became the most popular post on this blog. It was so popular that when "Harry Potter and the Deathly Hallows Part 1″ came out last fall, I updated it and ran it again. The rerun got as much traffic as the original.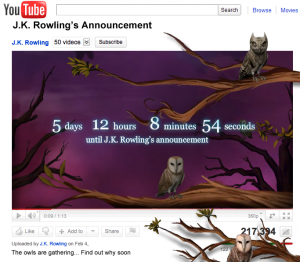 In the months since, those two posts still draw a ton of traffic. One day in May when someone used StumbleUpon to share a link to the rerun, page views for the post hit 1K, which is a good day for my blog. Today, someone else Stumbled the rerun and as I write this, page views are headed toward 3K, close to 10 times the traffic on the entire site yesterday.
What to Do With a Hit?
My question: how can I capitalize on this? Keep writing more posts about Harry Potter? Keep rerunning the same popular posts? Put up a sidebar widget on the front page of my site to showcase my most popular posts? Keep writing posts analyzing writing styles of famous authors and what other writers can learn from them?
I've just started the third book in the Stieg Larsson's Millennium series (The Girl with the Dragon Tatoo, etc.). I'm thinking of conducting an experiment: I'll write a post similar to the J.K. Rowling post about what I've learned from Larsson's writing style – and I have plenty to say about it – to see if it gets a similar reaction.
With "Harry Potter and the Deathly Hallows Part 2″ due in theaters July 15, I'm wondering whether to re-run the Rowling post again, or do another update. Rowling recently created a website called Pottermore.com and is six days away from making a big announcement about what she'll be doing with it. Speculation is running rampant that she'll use it to tell the back stories of characters from the Harry Potter series. If so, it'd make the timing for another Harry Potter post even better. (P.S. Here's the Pottermore.com teaser Rowling posted on YouTube.)
Have you ever had a runaway hit post? What did you do?
If you've ever been in a similar situation, I'd love to hear about it.
Source
http://michellerafter.com/?p=7595
Fri, 17 Jun 2011 23:07:18 GMT
Tags: Books, Deathly Hallows Part 2,
---
Kolkata E-Commerce
|
Navi Mumbai E-Commerce
|
Northeast Cobb E-Commerce
|
Gilbert E-Commerce
|
Minneapolis E-Commerce
|
St George E-Commerce
|
Fort Collins E-Commerce
|
Atlanta E-Commerce
|
Anaheim-Santa Ana-Garden Grove E-Commerce
|
McKinney E-Commerce
|
Books
---
Big in China, The Big Short, and The Big Shift - three nonfiction books are my picks for what writers should be reading now.
In a guest post, Portland, Ore., author and journalist Jennifer Willis shares suggestions for carving out time to write novels and other fiction.
Laura Vanderkam, author of "168 Hours: You Have More Time Than You Think," shares insider tips on carving time out of your day to work on a book.
Deathly Hallows Part 2
---
---
Need Freelance Writer Market? Check out our member profiles:
Minneapolis
Cynthia Sowden
Need an ad, a brochure, a video script, a feature article or web content? I give you creative copy, fast turnaround, and exceptional service. Writing, editing, proofreading at below-agency prices.
Minneapolis, Minnesota US
Northeast Cobb
MarketingRT
Integrated, High Yield, Marketing Tailored to Your Business Needs MarketingRT an interactive and online marketing company. REAL TIME marketing experiences, enhanced by services.
Northeast Cobb, Georgia US
Mckinney
thawriter.biz
I write for the very reason I breathe. From journalism, PR and online content, to fiction/non-fiction, creative and ghostwriting, I produce effective messaging that sells!
McKinney, Texas US
Gilbert
St George
Steven Lee
From direct-marketing to corporate communications, and everything in between, Steve has done it all. He wants to help you look your very best! Put Steve's twenty years of experience to work for you!
St George, Utah US
Atlanta
Fort Collins
Giveaway: Win an iPad Air & 5 Deals of Your Choice from Inky Deals! (sponsored)
By entering this contest, you'll automatically receive a pack of premium resources worth $55 for fre
---
Working Mom Sagas: Mornings or Evenings?
I've been working nights for years. This wouldn't be a big deal if I wasn't already working days and
---
6 Invoicing Tips for Getting Paid Lightning Fast
When I was a beginning freelancer, a late invoice often meant the difference between making rent
---
Free Writer Profiles End Tonight
Update: The offer for free writer profiles has now expired, and the $14.95 fee for future submission
---
The Secrets of Running Multiple Freelance Businesses
You have your freelance business. You've determined your profession, and now you're set
---
Article Tags
Freelance Writer Market Articles