The Hazards of Writing with a Conversational Style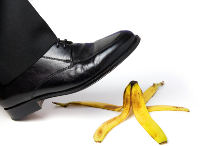 Don't get me wrong. I happen to think the conversational writing style is the greatest thing to hit business writing since the word processor. (Well, almost…)
But, there are some definite hazards associated with using a conversational style.

For one thing, there are some readers online who don't understand what using a conversational style means. What you see as making your writing more accessible they see as making mistakes or as being sloppy. (That's right–I said M.I.S.T.A.K.E.S.)
Secondly, there are some conversational practices that just should not make their way into your writing. Here are some of those:
Cuss words. Maybe you cuss in your day-to-day conversations, but not everyone does and many people find this offensive.
Derogatory language. I hope that you don't use derogatory language on a regular basis, but if you do keep it out of your copy if you want to be perceived as a professional.
Mispellings. When you speak, people can't tell whether you can spell or not. But, when you write spelling becomes important to conveying your message.
Regional Dialect. Unless you're targeting readers in a specific location, keep regional dialect out of your writing if you want to be fully understood.
Slang. Like regional dialect, you should consider using slang only if the audience you are targeting will understand the terms. (Keep in mind slang words change, sometimes rapidly.)
I've seen many writers fall prey to these hazards. One trick to keep your writing accessible is to remember to use the conversational style that most of your target audience would be comfortable with. This may, or may not, match your own natural conversational style.
Do you use a conversational style in your writing?
Source
http://www.writingthoughts.com/?p=1340
Tue, 31 May 2011 19:13:39 GMT
Tags: conversational style, dialects, Featured, slang, writing style, Writing Tips,
---
Anaheim-Santa Ana-Garden Grove E-Commerce
|
Kolkata E-Commerce
|
Minneapolis E-Commerce
|
Walsenburg E-Commerce
|
Gilbert E-Commerce
|
Atlanta E-Commerce
|
Navi Mumbai E-Commerce
|
Fort Collins E-Commerce
|
St George E-Commerce
|
McKinney E-Commerce
|
conversational style
---
dialects
---
Featured
---
By Jennifer Mattern As a freelance writer your portfolio is a valuable marketing tool. But if you're new to freelancing you may not have professional portfolio pieces you can show off. That's okay! There are other ways to build samples of your
"Oh no they didn't!" But sadly, yes they did. Once again I've run across someone who thinks that simply because they own a word processor and can type they can write their own web copy–even though they have no writing experie
So, you've decided to create a blog post. Or perhaps, you want to publish an article on an Internet magazine. Whatever it is, you will probably want to promote your piece through social media. If what you are writing is going end up online, pay atte
---
Need Freelance Writer Market? Check out our member profiles:
Minneapolis
Cynthia Sowden
Need an ad, a brochure, a video script, a feature article or web content? I give you creative copy, fast turnaround, and exceptional service. Writing, editing, proofreading at below-agency prices.
Minneapolis, Minnesota US
Walsenburg
Goldenwebweaver
Experience of this writer includes technical descriptions of testing procedures for testing of parts received in shipping. Non-fiction political commentary, and published in newspapers.
Walsenburg, Colorado US
Gilbert
St George
Steven Lee
From direct-marketing to corporate communications, and everything in between, Steve has done it all. He wants to help you look your very best! Put Steve's twenty years of experience to work for you!
St George, Utah US
Kolkata
Credence BPO Pvt Ltd
An ISO 9001:2008 certified and STPI registered company based in India, with offices in UK and USA. Our Services: Web Development, Design, Content & Article Writing, SEO, SEM, SMM, Native English.
Kolkata, West Bengal IN
Northeast Cobb
MarketingRT
Integrated, High Yield, Marketing Tailored to Your Business Needs MarketingRT an interactive and online marketing company. REAL TIME marketing experiences, enhanced by services.
Northeast Cobb, Georgia US
Anaheim-santa Ana-garden Grove
5 Project Management Techniques Freelancers Should Use to Work Faster and Smarter
As a freelancer, you likely handle lots of projects. That's probably why 10 Free Project Manag
---
Are you Comfortable Meeting with Prospects in Person?
Although it may be uncommon, there may come a time when you need to meet with a prospect in perso
---
5 Cheap Methods for Attracting New Clients
Freelancing successfully is all about meeting new people and generating leads for project work. This
---
Next #wclw chat is Feb. 29: The freelance work-life juggle
How to balance freelance writing with the rest of your life? Find out in the next WordCount Last Wed
---
5+ Ways to Survive Freelancing Famine Periods
Any long-term freelancer will tell you that most freelancers go through ups and downs–periods
---
Article Tags
Freelance Writer Market Articles