Is Bad Writing Contagious?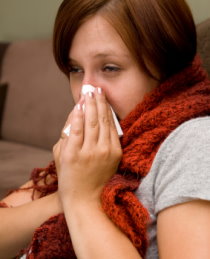 Plenty of things are contagious. For example, we all know that the measles, chicken pox, and even the common cold are highly contagious.
However, is bad writing also "contagious?" Are you more likely to write badly if you are surrounded by bad writing?
The question is a pressing one since bad writing is everywhere around us these days.

Bad writing can be found on blogs, in social media, and in text messages. Even pieces published through the traditional media are not immune.
It would seem that we are in the middle of a bad writing epidemic.
Personally, I think that exposure to bad writing can lead to a sort of error "blindness." For writers, this means that if you read a lot of poorly written stuff you'll have an increasingly difficult time recognizing bad writing and/or writing mistakes.
For me, this is a particular concern since I do a bit of Editing from time to time. I worry that too much exposure to writing mistakes will make it harder for me to see problems in my own writing.
The antidote for writers, of course, is to surround yourself (as much as it is possible) with good writing. Seek out well-written pieces and make a point of reading them. In fact, make it a habit to read good writing every day.
What do you think? Is bad writing contagious? Do you find it harder and harder to recognize problems in your own writing after reading something that is poorly written?
Share your answers in the comments.
(BTW, I should mention that I think that good writing can also be contagious in a good way. But that's a different post…)
Source
http://www.writingthoughts.com/?p=1302
Tue, 03 May 2011 19:00:00 GMT
Tags: Bad Writing, Featured, Quality Writing, social-media, Text Messages, Writing Tips,
---
Fort Collins E-Commerce
|
Anaheim-Santa Ana-Garden Grove E-Commerce
|
Navi Mumbai E-Commerce
|
Northeast Cobb E-Commerce
|
McKinney E-Commerce
|
Gilbert E-Commerce
|
Walsenburg E-Commerce
|
Atlanta E-Commerce
|
Kolkata E-Commerce
|
St George E-Commerce
|
Bad Writing
---
Miscommunication–It's the bane of every good writer, yet all too often it happens. What would you say if I told you that many communication problems that writers face could be traced to five common causes? You'd want to know those cause
Featured
---
By Jennifer Mattern As a freelance writer your portfolio is a valuable marketing tool. But if you're new to freelancing you may not have professional portfolio pieces you can show off. That's okay! There are other ways to build samples of your
"Oh no they didn't!" But sadly, yes they did. Once again I've run across someone who thinks that simply because they own a word processor and can type they can write their own web copy–even though they have no writing experie
So, you've decided to create a blog post. Or perhaps, you want to publish an article on an Internet magazine. Whatever it is, you will probably want to promote your piece through social media. If what you are writing is going end up online, pay atte
Quality Writing
---
By Leslie A. Joy Whether you're a professional writer or just someone writing a blog, time is of the essence. The faster that you write, the more content you can turn out, the more money you can make, and the more time you'll have for other th
---
Need Freelance Writer Market? Check out our member profiles:
Walsenburg
Goldenwebweaver
Experience of this writer includes technical descriptions of testing procedures for testing of parts received in shipping. Non-fiction political commentary, and published in newspapers.
Walsenburg, Colorado US
Atlanta
Kolkata
Mckinney
thawriter.biz
I write for the very reason I breathe. From journalism, PR and online content, to fiction/non-fiction, creative and ghostwriting, I produce effective messaging that sells!
McKinney, Texas US
Fort Collins
Minneapolis
Cynthia Sowden
Need an ad, a brochure, a video script, a feature article or web content? I give you creative copy, fast turnaround, and exceptional service. Writing, editing, proofreading at below-agency prices.
Minneapolis, Minnesota US
Anaheim-santa Ana-garden Grove
Northeast Cobb
MarketingRT
Integrated, High Yield, Marketing Tailored to Your Business Needs MarketingRT an interactive and online marketing company. REAL TIME marketing experiences, enhanced by services.
Northeast Cobb, Georgia US
Tips and Tools for Managing Multiple Blogs
Yesterday we talked about when it makes sense to have multiple blogs, and I shared some information
---
Other Writing Income Streams That Bring in Freelance Clients
While this blog is (currently) focused on freelancing writing, freelancing doesn't make up
---
3 Questions to ask yourself Before Pitching a Small Business
Over the years, I have found that many small businesses are in need of freelance contractors. This h
---
How Freelancers Can Brand Themselves Using Twitter Trends
Trending on Twitter was a difficult undertaking just a few years ago. If you were a major celebrity
---
Make Your Writing Funny: How To Create Jokes On The Can
People who know me know that I talk to myself a lot. Hey, I was a lonely kid – no wonder I mak
---
Article Tags
Freelance Writer Market Articles